[TABS_R id=227]
---
New England Dancing Masters produces books and recordings of traditional social dances and singing games from North America and the British Isles. Our materials —
which are specifically geared to dancers of diverse ages and abilities — are being used by thousands of teachers, recreation leaders and dance callers. NEDM recordings are made with some of the region's finest traditional musicians and recreate the excitement of dancing to the live music of a New England contra dance.
New England Dancing Masters: Andy Davis, Mary Cay Brass, and Peter and Mary Alice Amidon are all professional dance musicians, callers, and dance teachers. All have extensive experience teaching dance to elementary school students, both as music teachers and as artists-in-residence. They have time-tested the dances and singing games published here in classrooms and at community dances all over the country.
"I'm trying in my own way to see these musical traditions continue to flourish."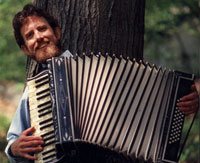 In the fall of 1976 Andy Davis walked into a small dance hall in Unity, New Hampshire. A contra dance was in progress and, having recently moved to New England from Virginia, Andy was looking for a way to "fit in." Finding the musicians friendly, he volunteered to play piano to back up the fiddle and concertina. This joyful evening of traditional dance music —plus an entirely unexpected twelve dollars! — led to a steady schedule of dances for the next twenty-five years.  
Andy now plays accordion and calls dances as well as playing banjo and piano. He teaches in the public schools of Dover and Brattleboro, Vermont, and as a visiting artist-in-residence. He specializes in teaching traditional dance and music. His work with young people led to his participation on two trips to Novosibirsk, Russia in 1988 and 1989. Andy has appeared as a dance musician, teacher and song leader at many well-known traditional music and dance camps throughout the United States. 
Andy's calling of square and contra dances is often for the benefit of small community dances where dancers of all ages and levels of experience are encouraged to join in. His commitment to promoting traditional dance in schools and communities led him to start, along with Peter and Mary Alice Amidon and Mary Cay Brass, New England Dancing Masters, publishers of books, recordings and a video for teachers and recreation leaders. 
Each December since 1987 Andy performs throughout new England with Nowell Sing We Clear, a concert of mid-winter carols, with Tony Barrand, John Roberts and Fred Breunig. The group specializes in traditional songs, shape-note hymns and instrumental dance music and customs from Christian and pagan traditions. 
Andy makes his home in Brattleboro, Vermont. In addition to maintaining a schedule of concerts, residencies and community dances, Andy teaches young people how to get involved in playing traditional contra dance music. "It gives me a warm feeling when I see how accessible this music is to young musicians. I'm trying in my own way to see these musical traditions continue to flourish." 
For more information contact:
Andy Davis
41 West Street
Brattleboro, VT 05301
802-257-1819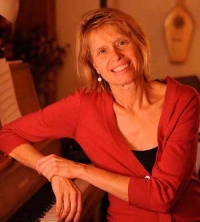 Mary Cay Brass has been involved in traditional dancing since childhood. In the 1970's she spent two-and-a-half years in the former Yugoslavia studying traditional song and dance on a Fullbright Scholarship. She has put out two recordings and song/dance collections of this music entitled Village Harmony and Balkan Bridges.
"She is a master music teacher."
Since the early 1980's she has been playing for traditional New England contra dances all over the country.On both piano and accordion she has the rhythmic drive and energy that make her a much sought after musician. She plays regularly with the Greenfield Dance Band based in Greenfield, Massachusetts and nationally and internationally with the band Airdance. She has a number of CD's of traditional dance music to her name, available at Great Meadow Music.
Mary Cay worked for 8 years as a classroom music teacher in public and private schools in southern Vermont. She now works regularly as an artist-in-residence in New England schools, working thematically with teachers to create programs of songs and folk dances. Her specialty is finding songs and dances to complement themes being studied in a classroom or school. Some examples of themes she has worked with are: Africa, African- American history, Australia, Asia, France, eastern Europe, Vermont history and culture, whaling, May day festivals and winter solstice celebrations. Using traditional music to create community is her life-long passion and commitment.
"In Mary Cay's classes every student participates with their complete spirit, expressing joy in each song or dance and working together on a very high level. She is a master music teacher. Within a few hours students are singing with gusto. The final performance is magical and brings great enjoyment to both the audience and performers. Mary Cay is an extremely skillful and creative teacher with an impeccable sense of timing which keeps the group focused at all times. MC is one of the finest teachers I have ever worked with."

-Claire Oglesby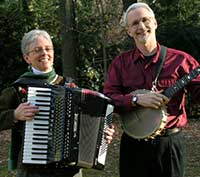 Peter and Mary Alice Amidon are versatile and widely respected performing and teaching artists who for the past twenty years have dedicated themselves to traditional song, dance and storytelling.
The Amidons are equally at home doing a concert of stories and songs for adults or children, calling a contra dance for adults or a community dance for all ages, leading harmony singing workshops with adults, or doing an elementary school residency of singing, storytelling or traditional dance. Peter and Mary Alice are familiar faces at the major northeast U.S. music and dance festivals, at teacher conferences, and at summer folk camps of traditional dance and song. They have performed concerts and led residencies in hundreds of schools, libraries and churches.
For more information, please visit http://www.amidonmusic.com